W1 Self storage without the hassle, Prices from Just £9.95 p/w Affordable storage for everyone for a short or long term in W1. Secure and flexible storage solution that comes to your doorstep. We Collect and Store all for less than Self Storage in Mayfair
W1 Storage start from just £1.42 per day.
Specials limited time. Get 50% off for 16 weeks
Schedule Storage Collection & Delivery in W1 Mayfair for Quick & efficient services.
A simple, painless solution to your moving and storage problems.
Are you "renting a storage unit W1", for a planned project for household storage or just simply de-cluttering to make additional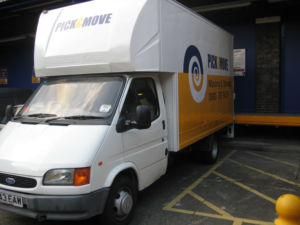 space or perhaps your business is overflowing with excess inventory or just need a few pieces of furniture for as little or as long as you required. Pick&Move  secure storage facilities can be off-site addition to your home or business in W1, Mayfair area?. You will find exceptional low rates, great move-in specials better than any W1 self storage facilities in Mayfair. In fact, all you really need to do is call us, tell us what needs to store, and when you need to store it, and we'll take it from there is that simple.
W1 storage units are a perfect extension of your home or business with many advantages
we are offering you the same Low-Cost storage in W1 Mayfair for both businesses and residences that take the hassle and headaches out of moving. With the added benefit of  Free Collection, we store your goods in our secure, clean and dry storage facilities for short or long, without the worry of moisture or humidity. All of our storage facilities are self-contained, clean, dry  24/7 Video surveillance and fully alarmed. So when your goods are stored with us, you know that their protection is our top priority. Call 0207 205 2744, 0800 781 9629 today.
Why are we different from competitors & 45% Cheaper too!
We cheaper than self storage
Fix Storage rate for 5 years
Free Insurance & Generous Discount.
Storage Collection, stored and delivered.
Packing/Unpacking Service
Secure, Smart, Convenient
Boxes and Packaging Supplied
Free survey home or office
Our storage services basically combine allow you to mix and match our services so that you can keep costs low and efficiency high for whatever your budget may be. When you pay for only what you need, you can imagine what cost savings you can enjoy! And you can also request tips and tricks from our phone consultants when you call us up for your free, no-obligation quotations; let us know if you have any special requirements too and we'll do our best to make sure that we can offer you a rate that nobody can beat.
Unsure of how much storage space you need.
Are you looking for a storage unit near W1? We are Cheaper than any other Self Storage facility in W1.
As always, we want to make sure that at Pick&Move our solution is a comprehensive one. That's why we offer more services on top
of our Storage options so that you really only need to go to one place for all your answers. Here's what else we can do for you: including free packaging for long term storage Never visit storage facilities again, within short notice, boxes and packaging can be supplied, your fragile items packed, furniture dismantled and wrap. Need an item back? we can retrieve store items to be delivered back at your convenience, unlike self storage DIY.
Disposal Service – For all the unwanted items, you can trust us to clear out your sensitive items with the utmost discretion and care
Book your W1 Self Storage unit today for speedy collection service.
or 0800 781 9629. 0207 205 2744