If you're living in Primrose Hill then you're already paying too much rent for too little space. PICK&MOVE Storage Primrose Hill is the most convenient and smart storage option. You shouldn't have to pay another arm and a leg to make space in your apartment nor should you worry about transporting your goods just to get to your overpriced, storage unit in Primrose Hill.
Primrose Hill has a character all of its own, at the summit of this grassy hill are some spectacular views across London. It is separated from Regent's Park by Prince Albert Road and the ZSL London Zoo. At the top of the hill is one of the six protected viewpoints in London.
The summit is almost 63 metres above sea level and the trees are kept low so as not to obscure the view. In winter, Hampstead can be seen to the northeast.
Schedule pick up or calling  0207 205 2744
Are you looking for Primrose Hill Storage with pick up & delivery
No more trips to your storage unit in Primrose hill, get what you need from self-storage, hassle-free.
Here's how it works in 3 – simple steps.
We Collect.
PICK&MOVE reinvent the way you store. Finding the time in your busy schedule to organise belongings to and from a self-storage in Primrose Hill can be frustrating and difficult. Moving the contents of a full house is a tiring
me task that often requires careful planning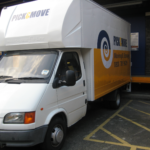 PICK&MOVE Storage pick-up eliminates all the hassle and inconvenience of storing the goods with collections directly from your doorsteps. Need packing service as optional?
We Store.
If you are going on an overseas holiday, are waiting for your new home or business to be ready or simply want to create more space in your home by keeping certain belongings off-site in storage, Our secure facility provides safety, clean dry without moisture or humidity 24/7 CCTV monitoring and control access until you are ready to move back
We Deliver
Organise re-delivery of your belongings takes only a phone call to inform us of your readiness to accept your goods back into your home, each item placed into your designated area we can unpack as optional service if required. We
deliver both local and international destinations.
Self Storage Primrose Hill just got easier.
Simply call us on 0800 781 9629, 0207 205 2744, or  Email us. You will be surprised at how much you will save.