Whether you're in Kings Cross and nearby locations. "Storage Kings Cross" has never been easier because we understand that storing away belongings is a chore. That's why we've made it easy. PICK&MOVE storage is the modern alternative to storage and moving. From the first pickup to the final delivery, our team of professionals will take care of everything to bring you the ultimate full-service without you leaving your home or office.
Whatever it is, it's your stuff. And that makes it important. But if it doesn't fit into your life at the moment, you have choices. Schedule pick up and experience the convenience of door to door storage.
About King Cross, The arrival of the 21st Century has seen some significant changes that have kick-started the next chapter in the history of King's Cross. In July 2001, construction work started on the Channel Tunnel Rail Link and the restoration and extension of St Pancras Station. Since then, the area around King's Cross has seen an investment of over £2.5 billion on transport infrastructure.
Kings Cross is a district on either side of Euston Road, in Central London, England, 1.5 miles (2.4 km) north of Charing Cross. It is served by two major rail terminii, St Pancras and King's Cross. King's Cross station is the terminus of one of the major rail routes between London and the North.
Whether you're waiting to close on your new home, preparing to sell your old place or simply looking for a space to store some extra furniture, or perhaps you need extra office space for inventories or renovating, whatever the situation you find yourself in PICK&MOVE has the solution for you.  You can schedule storage collection by calling 0207 205 2744 or Get a Quote Online.
Here's how Storage Kings Cross works in 3 – simple steps.
We Collect.
PICK&MOVE reinvent the way you store. Finding the time in your busy schedule to organise belongings to and from a storage facility in shepherds bush can be frustrating and difficult. Moving the contents of a full house is a tiring
me task that often requires careful planning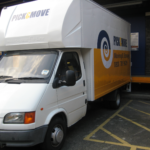 PICK&MOVE Storage pick-up eliminates all the hassle and inconvenience of storing the goods with collections directly from your doorsteps. Need packing service as optional?
We Store.
If you are going on an overseas holiday, are waiting for your new home or business to be ready or simply want to create more space in your home by keeping certain belongings off-site in storage, Our secure facility provides safety, clean dry without moisture or humidity 24/7 CCTV monitoring and control access until you are ready to move back
We Deliver
Organise re-delivery of your belongings takes only a phone call to inform us of your readiness to accept your goods back into your home, each item placed into your designated area we can unpack as optional service if required. We
deliver both local and international destinations.
Your search stops with Self Storage Kings Cross. There is a better option of storage.
Self-storage Kings Cross operate in which you get a space and pay a set rate for said space. The problem with this is that people end up paying for storage space that they aren't necessarily using. Why? Typically it is because self-storage facilities are always trying to maximize the use of your space.
Not only that is expensive and cumbersome that's why when you choose PICK&MOVE not only that you get affordable prices, but we also pick up, and deliver your items when you need them back or in between storage. Self storage in Kings Cross does not offer such services is a DIY storage solution. When you choose to store your possessions with us, you get the peace of mind that comes with a full-service option Self storage Kings Cross made effortlessly easy.
Storage units Kings Cross
We know you have options when it comes to storage units Kings Cross and whats on offer. That's why we want you to know about all of the great things PICK&MOVE has to offer, the combination of which can't be found anywhere else. Our storage units are cheap.with discounts upto 50% off for 16 weeks. We can supply boxes and packaging , pack the entire contents, at the end of storage delivery can be arrange local, national or overseas.
We already know that arranging a self-storage units can take a lot of time out of your schedule. PICK&MOVE removes the travel time and the effort taken to move your items from your home to the self-storage unit from the equation, making it an incredibly convenient storage solution. Because we picked up and delivered to your home when you are done. If you need storage near Kings Cross call us on 0207 205 2744 or online
Simply put, if you have things that you need to store, valet storage is right for you. When you work with a valet storage company like Doorage, your experience gets even better. Our process is effortless, quick, and can be controlled entirely through our online platform from the comfort of your home.
By choosing PICK&MOVE full-service meaning we pick up, store, and return your belongings when you need them. Compared to renting self-storage units in Kings Cross.
Call 0800 7819629 for storage Kings Cross and let us know what your requirements are.