Removals Hammersmith from PICK&MOVE is effortlessly planned when you chose us. We cover the whole of Hammersmith. Your furnishings will be protected in transit with removal blanket padding and placed in your new home in the room of your choice, Moving locally in Hammersmith W6 or across London or Relocating overseas.
We can arrange your move any distance with our team of Hammersmith Removals experts in W6, we unpacked and, if need be, placed inside cupboards ready to use. We suggest that you discuss this particular service with your move coordinator
Surrounding areas of W12, W14, SW6, SW5,
Removals and Storage Company in Hammersmith.
If you're planning a move but your new residence isn't quite ready, or you need some additional storage space while you sell your previous home, Pick&Move "removal company in Hammersmith" can help. Our specialized storage services provide an easy-to-use, flexible solution when you're faced with moving schedule challenges.
We collect from the comfort of your home or office without you needing to visit storage facilities again. There is more! we are cheaper than any self storage in W6 – hammersmith.
We'll store your belongings at our secure, convenient storage facilities as part of the moving process, hold them on site until your new home is ready, then move them into your new space when you are ready. Call us today and start saving. Why Hire Man and Van in Hammersmith.
Hiring Man and Van in Hammersmith, you control the cost.
Light Removals in Hammersmith made affordable with our low cost flexible  "Man and Van Hire" service any distance with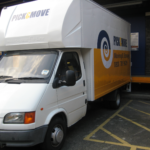 the option of numbers of men you are in control, we do not charge coming to you or travelling back to our base. We offer additional add on services if you need packing full or part pack your fragile dismantle your furniture the choice is yours.
Pick & Move understands that no two moves are the same, especially when moving abroad If you are planning to relocate your family or business our team of experienced International Removals  We don't just plan your packing and unpacking or manage your shipment, we're here to support you with every aspect of an international move.
Check out our variety of moving services, all developed to make your move a smooth transition
Contact us today for any of our services on 0800 781 9629 OR
Request A Quote                   Pre Move Survey                  Request a Call Back
HAMMERSMITH AREA INFORMATION – W6
Hammersmith & Fulham is one of the 13 inner London boroughs and is situated in the centre-west of London on the transport routes between the City and Heathrow airport.
It is a long narrow borough running north to south with a river border at its south and south-west side. It is bordered by six London boroughs: Brent to the north; Kensington and Chelsea to the east; Wandsworth and Richmond-Upon- the Thames to the south; and Ealing and Hounslow to the west. Excluding the City of London, it is the third smallest of the London boroughs in terms of area, covering 1,640 hectares. Hammersmith & Fulham is made up of 16 electoral wards.
Population
The borough population was measured at 165,242 at the time of the 2001 Census with a population density of 101 people per hectare. This makes Hammersmith & Fulham the fourth-most densely populated local authority in England and Wales.
Current estimates of the population from 2004 show that the borough's population has risen to 176,800 residents from the mid-year estimate of 169,400 in 2001. This increase over the 2001-4 period is the sixth-highest of all the London boroughs.
At the time of the last census, 75,438 households were counted in the borough. At the latest estimate, there are 76,900 resident households in the borough in 2005.
Education
There are four nursery schools, 35 primary schools, and nine secondary schools in Hammersmith & Fulham. The borough also houses five special schools and two Pupil Referral Units (PRUs). In borough primary schools there is a higher proportion of children with special educational needs (SEN) when compared with inner London and national figures. The difference is the result of a deliberate strategy of early identification and the subsequent high rate of statements issued for primary aged children.
In secondary schools, the proportion of children with special educational needs (SEN) is lower than in inner London, partly due to the different make-up of primary and secondary schools. The rate of SEN is near the inner London average for community schools, whereas in voluntary-aided schools the rate is much lower.
In terms of ethnic group breakdowns, the borough and inner London is very diverse when compared to national averages, both for primary and secondary schools.
Health and Social Care
Hammersmith & Fulham Primary Care Trust (PCT) was formed in April 2002. It is responsible for providing and commissioning healthcare for people registered with GPs within the PCT, and for improving the health of patients and local residents. The PCT covers the same geographical area as the borough.
There are 33 GP practices and 39 dental practices in the borough. The number of GPs per 1,000 population is slightly higher in Hammersmith & Fulham than in England as a whole. The number of dentists per 1,000 population is higher in Hammersmith & Fulham than in England. There are three main hospitals within the borough: Hammersmith Hospital, Charing Cross Hospital and Ravenscourt Park Hospital. There is also a specialist maternity hospital, Queen Charlottes and Chelsea Hospital, which is on the site of Hammersmith Hospital.
In addition, Chelsea & Westminster Hospital is close to the borough boundary and is utilised by people in the south of the Borough.
Local Economy
Hammersmith & Fulham has three thriving town centres: Shepherd's Bush in the north, Hammersmith in the centre-west, and Fulham in the south. The borough is home to some major international companies and has a strong reputation as an area noted for media and entertainment industry firm locations. The largest employer in the borough is the BBC with BBC Television Centre headquarters located in White City.
Local Attractions
The borough has a strong sporting profile. It is home to three professional football clubs – Chelsea FC, Fulham FC, and Queens Park Rangers FC. The borough also houses Queen's Club tennis club which hosts the Stella Artois Championships each summer.
The borough has an interesting historical heritage and houses attractions including Fulham Palace (historic home of Bishops of London), and Kelmscott House (home to William Morris for the last 18 years of his life). Two of London's major exhibition centres, Earls Court 2 and Olympia, are also located within Hammersmith & Fulham. The two centres host trade shows, consumer shows, and exhibitions, throughout the year. A 2002 study, showed that each year, one in every two Londoners visits an event at either Earls Court or Olympia
http://www.lbhf.gov.uk/Directory/Transport_and_Streets/Parking/