We offer local Removals Bloomsbury and all over WC1, for moving families and businesses in Bloomsbury. When ensuring your move is as stress-free as possible. Whether it is a full house, a single room, or an entire office in WC1, Pick&Move is committed to giving our customers a quality door-to-door moving experience. Our dedicated Bloomsbury Removals team is committed to delivering the best customer from the time you contact us until the end at your destination.
Moving House, Man and Van WC1 Removals
Moving Company WC1 West End nearby postcodes WC2, W1, NW1, N1, EC1, EC4
Our charges are completely transparent and will be clearly explained at the outset; We take pride in our straightforward, approach to moving and will always ensure you receive competitive pricing our moving tips will assist you to get started.
Hiring Man and Van Removals Bloomsbury is Cheaper and You Control The Cost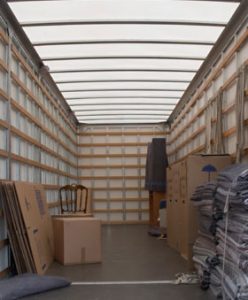 Careful planning and preparation will create efficiency and make to the day run smooth. We have two different pricing options depending on your needs, an hourly rate "Man and Van" service in WC1 designed for people who only have a small amount to move whatever the distance whether a single item, flat and studios or fixed-rate quotation you can request free no-obligation survey ideal for those with a full house or office move with packing needs or packing and storage.
.
Furniture removals and storage Bloomsbury at the right price.
If you require furniture removals and storage for one week, Storage short term between house settlement dates or long term whilst you're building a new
home or working overseas with your employer, our network of nationwide branches has quality purpose-built secure storage warehouses available to cater for your long or short term storage requirements in Bloomsbury, Holborn and entire central London.
The security of your items is further assured thanks to our secure storage facilities. Each storage facility features state-of-the-art alarm systems, high fences and CCTV for all locations within the facility.
Ask About Overseas Shipping Services in Bloomsbury
Whether you are moving from Bloomsbury or Birmingham to Dubai, we can help you with all your needs. You will have a dedicated and experienced coordinator looking after every arrangement from start to finish, providing you with professional removal ad
vice and guidance along the way our team of experienced International Removals will ensure that every aspect of your move is successful as planned, with a rich understanding and knowledge of global shipping, a network of a trusted local agent that will arrange with you to deliver your goods into your new home.
Get an Instant Quote Online
Overview of Bloomsbury.
The postcode districts within WC1 include WC1A, WC1B, WC1E, WC1H, WC1N, WC1R, WC1V, and WC1X. Its boundaries on the east are Rosebery Avenue, Gray's Inn Road and Amwell Street. To the south, the boundaries include High Holborn and New Oxford Street. Tottenham Court Road is the western boundary, and Pentonville Road and Euston Road are the northern borders. The WC1 postcode area is roughly the same as the London district of Bloomsbury but includes areas of St Pancras, King's Cross and Holborn. You will also find Tavistock Square, Russel Square and Coram's Fields within WC1, as well as the British Museum and certain buildings of the University of London.
Bloomsbury is an area of central London between Euston Road and Holborn, developed by the Russell family in the 17th century. Bloomsbury has no official boundaries, but can be roughly defined as the square bounded by Gower Street and the lower part of Tottenham Court Road to the west, Euston Road to the north, Gray's Inn Road to the east, and either High Holborn or the thoroughfare formed by New Oxford Street, Bloomsbury Way and Theobalds Road to the south.[2] Bloomsbury merges gradually with Holborn in the south, and with St Pancras in the north-east and Clerkenwell in the south-east.
The area is bisected north to south by the main Southampton Row-Woburn Place thoroughfare, which contains several large tourist hotels and links Tavistock Square and Russell Square – the central points of Bloomsbury. The road runs from Euston and Somers Town in the north to Holborn in the south. The area east of Southampton Row/Woburn Place includes the Brunswick shopping centre and cinema,[7] and Coram's Fields recreation area. The area to the north of Coram's Fields consists mainly of blocks of flats, built both as private and social housing, and is generally considered part of St Pancras[8] or King's Cross[9] rather than north-eastern Bloomsbury. The area to the south is generally less residential, containing several hospitals, including Great Ormond Street, and gradually becomes more commercial in character as it approaches the boundary with Holborn at Theobalds Road.
The area west of Southampton Row/Woburn Place is notable for its concentration of academic establishments, museums, and formal squares. It is this side that contains the British Museum and the central departments and colleges of the University of London, including Birkbeck College, University College London, the School of Oriental and African Studies, and the University of London's School of Advanced Study. The main north-south road in west Bloomsbury is Gower Street which is a one-way road running south from Euston Road towards Shaftesbury Avenue in Covent Garden, becoming Bloomsbury Street when it passes to the west of the British Museum and into a fashionable residential area. It is notable for its array of garden squares,[1] literary connections
Neighbouring Areas, Regent's Park, Somers Town St Pancras  Fitzrovia,   Clerkenwell   Soho, Covent Garden, Holborn,