Are you looking for E14 Self Storage that is convenient and cheap? is hard to find one that caters for all your needs. We collect, store and return on demand and you do not have to leave your home or office. A secure E14 Storage unit is the way hassle-free and is a cheaper alternative to traditional Self Storage facilities in E14, Canary Wharf, Docklands and surrounding areas
If you are a resident of the Canary wharf choose PICK&MOVE today by calling 0207 205 2744  and experience the difference is so much more convenient and cheaper than Self Storage in Canary Wharf.
Renting a storage unit in E14 has a major advantage for home maybe just need to de-clutter or downsize or you are travelling and renting out your home, perhaps you run out of office space or maybe your businesses is expanding, maybe putting away excess furniture and inventory. for whatever reason, We'll collect and store in our secure storage facilities in London. Pick&Move storage option is 64% cheaper than self storage alternatives with significant savings.
We treat every storage unit as if it's the most important one in our building, from small units to large rooms. Our entire property is covered by 24-hour video surveillance to assure our customers that their belongings are safe We know not all insurance policies cover storage units, which is why you can get protection plans the moment you move in. We can provide full-service storage, including packing and unpacking as optional services.
E14 Storage with collection and delivery, price starts as little as £9.95 p/w with free insurance and more.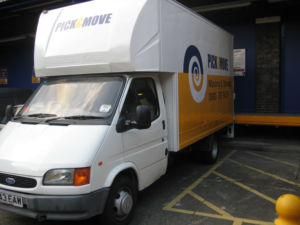 PICK&MOVE pick up your stuff, store and deliver it when you need it. Knowing the right storage option in E14 that is affordable compared to Self Storage alternatives will save you time and money,  we collect eliminating all the problems encountered with the Self Storage option. No need to travel to and from storage facilities saving you valuable time.  Our storage units in E14 is designed with our customers in mind, ideal for Home or Office storage across E14, Canary Wharf, Docklands. PICK&MOVE storage is much cheap and much better than alternatives if you need storage Canary Wharf with pickup & delivery options.
Are you searching for Storage units Canary Wharf?
If you're looking for the "Self Storage units Canary Wharf" at the lowest rates, PICK&MOVE is the place to go. Our storage units Canary Wharf is cheaper than self-storage options up to 49% in most cases. There are no headaches, or problems worrying about how to transport your belongings because of PICK&MOVE collection
from the comfort of your home or office. Why store anywhere else, with our Low price's throughout the year and Free Collection Service. Our storage offers is the envy of competitors unlike self-storage is a hassle just like the name "Self" is a DIY storage option. Pick&Move storage offers better storage solutions.
Renting a Secure Storage Unit in E14 is easy to call us on 0800 781 9629 or 0207 205 2744
Our convenient door to door service is just a click or phone call away
Every aspect of our process from getting a quote, to storing your goods is designed to make your life easy.