PICK&MOVE provides Cheap Storage London for everyone in need of storage space whether renovation, DE cluttering, or just extra space to store the things you love or not so use items for home or office. Cheap storage London from £9.95 per week and typical 35 SQF units cost only £19.20 per week, with a discount on offer and free pickup you will be paying much less. If you are looking for cheap storage to rent, why not get in touch now and see how much you can save. Keep your personal, residential or commercial belongings safe and secure with cheap long-term storage. Whether you need to store valuables and effects for a few months or a few years, PICK&MOVE has a range of cheap storage rooms in different sizes available at great rates all year long. Call us today on 0800 781 9629 or Schedule a pick-up service.
Cheap Storage Units London.
When you choose PICK&MOVE as your storage providers save you time and money with our cheap storage units. We pick up, store, and bring back your stuff—so you don't have to.
Have you tried various different means and ways to increase storage at home or in the office by maximizing all the space you can find? Do you still find it difficult to reduce clutters and maintain a neat and tidy environment? PICK&MOVE cheap storage units are the answer to your needs.
The prepayment discount lowers your overall cost of storage units with a free collection thrown in. If you looking for cheap storage look no further you will be surprised how much you can save by choosing the right storage option, There are no reasons to pay more? Is cheap and convenient in comparison to self storage alternatives.
Cheap Storage London prices start from 99 per day. 35 SQF only £19.20 p/w + Discount
Long Term Special Deals
                       *50% Off for 16 Weeks

                        Free Collection
                        Free Insurance
                        Limited time only GET a Quote Now
*45% Cheaper than Self Storage compared
FREE PACKAGING (Ask For Details)

FREE Home Survey

And More!
Cheap Storage Units for everyone in need of extra storage space to rent.
Whether you are moving to a new home, renovating or expanding your business, or clearing space in your garage, you will find what you need at one of our meticulously maintained facilities. With a variety of cheap storage units and storage options available, regularly offered specials, and no deposits necessary, it's always easy to find the right unit for your needs and budget.  Cheap storage units can be used for any of the reasons mentioned below:
Decluttering: giving an impression of more space can make your property easier to sell.
Space to sort: move out things that you're unlikely to need on a day-to-day basis to avoid piles of boxes stacked up.
Downsizing: if you are moving into a smaller property but still want to keep some of your possessions then keeping them in storage makes sense.
Moving in together: if you've got two of everything, it can be helpful to store some of your belongings while you work out what you both need and like.
Waiting for the perfect property: if you've sold your home but not yet found the next one, self-storage can be a short-term solution. Take only what you need and leave everything else packed up for the final move.
Putting your furniture and files in store: work from home or elsewhere until your new office is ready to move into.
Giving your workmen more room – your refurbishment will finish faster if your builders or decorators don't have to work around your equipment and furniture.
Are you looking for Cheap Storage Near Me? PICK&MOVE collect and deliver on-demand.
We've got cheap storage prices for you and near you! Flexible, Smart and Convenient cheap storage solution Our Free Collection are designed to take out all the hassle that many of us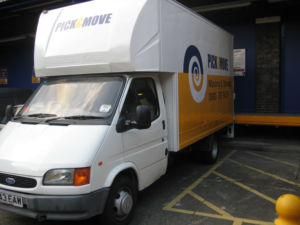 encounter when storing our goods and you do not have to leave your home or office no need to worry about finding cheap storage nearby since PICK&MOVE storage pick up and delivery eliminate issues with distance and transportation of your belongings. All you do is relax and let us take care of the process for you.
"cheap storage near me" is a problem solved because we collect right from your doorstep covering entire London postcodes. Renting cheap storage nearby or near your location made simple with our pickup and delivery service.
No more worries relax while we collect your goods from the comfort of your home or office storage near me just made easier, Pick&Move Cheap storage London offer a great alternative to Self Storage, flexible and convenient at the price you can afford, that's not all out storage rates is lower each year you store with us offering exceptional value if you are in for long haul,
Collection can be arranged at short notice, Pick&Move offer more than just pickup we can supply boxes and packaging, pack the entire content of your home or office is a choice that you have, unlike self-storage. Need an item back between storage, no problem let us know and we would deliver back straight to your door saving time and mone
Get a Quote Today.
Simply call us on 0800 781 9629, 0207 205 2744, or  Email us. You will be surprised at how much you will save.