Cheap Self Storage London.
Genuine Cheap Self Storage London is hard to find. With so many storage facilities in London, secure and affordable storage units are an issue, choosing a better value Cheap Self Storage could be a struggle. Pick&Move storage is better option and Cheaper alternative to Self Storage, We Collect, Store and Return.
Cheap Self Storage London, are not exactly Cheap is an inconvenience Do-It-Yourself. The only way is Pick&Move Storage units flexible, cheap and Free collection In London, saving you time and money. Cheaper than Access Storage, Safestore, Big Yellow 
PICK&MOVE Storage is far better than traditional self storage, we offer low rate throughout the year, you do not have to worry about price hike associated with self storage, If you are looking for a cheap self storage London the answer is you probably wont find it with self storage option, is cumbersome and expensive way to store.
Storage rate as starting from just £1.42 per day
*50% Off for 16 Weeks & More. Are you in for Long Haul?
                        Free Collection
                        Free Insurance
Personal reasons why you may need Cheap storage units.
PICK&MOVE is easy storage London, hassle -free alternative to Self-storage. Our cheap storage units saves you money and time when there are changes in your life. PICK&MOVE offers convenient, reliable storage. Whether you're a twenty-something looking to take advantage of London social scene and cultural events, whether you're preparing your home for a long-term guest, You may be:
moving house
renovating your home
decluttering rooms
travelling or moving abroad
at university or college
going through a divorce
having a baby
clearing out a property after a bereavement
There are many reasons for businesses to consider cheap storage.
Freeing up valuable office space is vital for any business PICK&MOVE cheap storage allows you to create space in your work premises. And it prevents your office looking like warehouse.
Whatever the size of your company, our storage can:
give you somewhere to store your archives and files
provide a safe and secure place for your tools and equipment
give you room for your stock and merchandise
take your furniture off your hands during an office move or refurbishment
Why cheap storage units is the ideal solution for Londoners:
Renovating if you need to move furniture out when workmen come in
Need a storage or gap between home sale.
Short term storage for what ever reason.
Long-term storage
If you are a Landlord need to put furniture away till required.
Uncluttering your place so it sells or rents sooner
Storing college student's stuff for summer

Anyone who wants safe, secure, more affordable, mobile container storage
 PICK&MOVE Cheap Storage Units is ideal for home or business, We Collect Door to Door and deliver on Demand.
Self Storage is hassle why spend half of your day travelling between storage facilities in London, you can relax knowing that all the physical hard work will be done, whatever your requirement, we can supply boxes, pack , collect  label and stored in our secure storage unit in London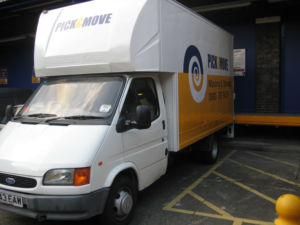 We specialise in  cheap long term storage, great news is that the longer you store with us the cheaper the storage rate  "clean, secure self-storage units at an affordable storage unit prices. Mobile storage offer great value compare to any likes so called Cheap self storage London.. The downfall is that they are not so cheap, expensive insurance and rate is always on the rise.
Complete peace of mind:
Full Alarmed Red Care Monitoring System
Gated computerized Access
Smoke & Fire detector.
CCTV Security 24/7
No Humidity or Moisture
Modern Secure Warehouses.
35% – 60% Cheaper than Traditional Self Storage·
Fully Insured & UKWA Standard
You Can Start Storing Today its Easy. .
Do you already have a Quote from competitors?  simply call us on 0800 781 9629 or Email us. You will be surprise how much you will save.